Al burouj New Cairo Development in Cairo Governorate, Egypt
Al burouj New Cairo Development in Cairo Governorate, Egypt
Al burouj New Cairo is an integrated residential development that sits on a 5 million sq. meters in East Cairo, Cairo – Ismailia, Egypt.
Launched in 2016, the project is planned to have approximately 30,000 residential units, 817 of which were delivered in August 2021, with 670 more units expected by the end of 2021. The entire project is divided into four phases ending in 2029.
Other than the residential units, the Al burouj New Cairo Development features an international school, a commercial center with a rental area of ​​46,500 sq. meters, a sports club on an area of ​​38,000 sq. meters, cultural and worship centers, a business park on an area of ​​120,000 sq. meters comprising of 12 buildings and an "office park" managed by Smart Villages. The latter will be the first and only Smart Villages affiliate in East Cairo.
It also features a green network designed to reduce road crossings and enable users from all of the districts in the neighborhood easy access to a central 23-hectare forest park that unifies all the districts and provides a green lung for the project.
Generally, the Al burouj New Cairo Development has been designed along with traditional planning principles of walkable catchments connecting neighborhoods and district centers with larger regional centers. The planning principles ensure all residents are within walking distance of local & regional retail destinations, pocket & forest parks as well as local mosques & the grand mosque.
The street hierarchy network is developed to ensure that interconnections allowed for all modes of transportation while favoring walking, cycling, and jogging as lifestyle choices for new residents.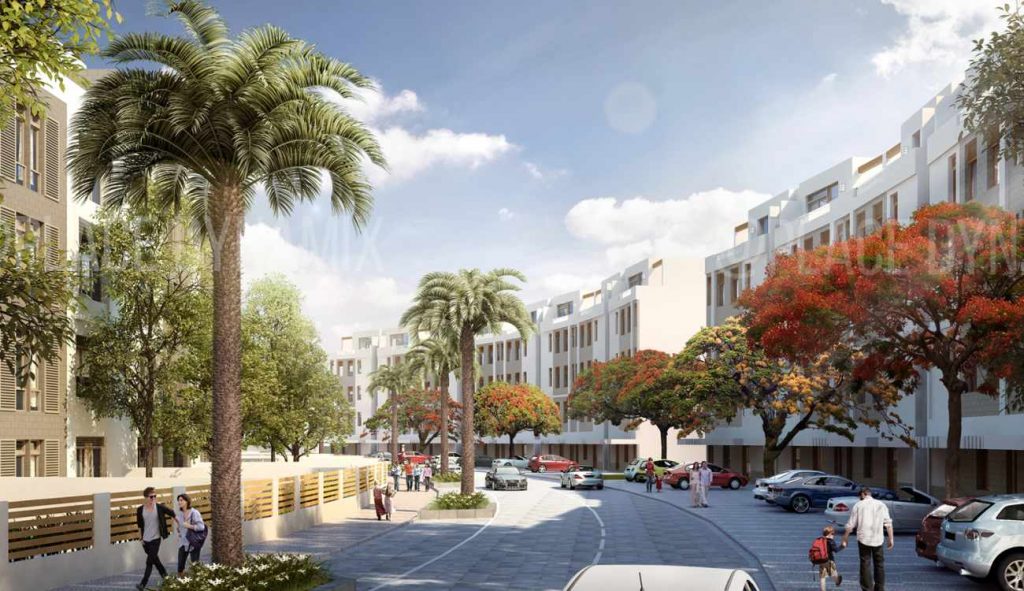 Noteworthy, the architect has provided schematic design typologies for all of the product range including apartments, townhouses, and villas. The comprehensive range of housing types is aimed at allowing people and families to grow and to live their later lives in the development by providing smaller higher density apartments at the center of the lower density villa developments.
The housing typologies were developed with a balance between high efficiency and living comfort – all of the villas with gardens and all apartments with terraces.
Project team
The project is being developed at an estimated cost of US$ 4.47bn by Capital Group Properties, a joint venture between Abu Dhabi Capital Group (ADCG) and Al Ain Properties.
ADCG has contracted several companies including Place Dynamix, WSP, Hassan Allam Construction, Redcon, Misr Engineering Development – Medcom, Gama, Dorra Group for Development, and Al Kharafi.